Healthy food, healthy families, healthy community!
Eastside Urban Farm and Garden Center is a a mission driven business. We take environmental stewardship seriously, which is why we focus on organic, holistic & regenerative agriculture and homesteading practices in both the products we off er, and the information we provide. We believe that restoring local organic food production and the health of the land is key to keeping our community and families healthy for the future. Our mission is to increase local food resiliency, and through that, to foster community stability.  Caring for the land, and all who depend on it is crucial to a stable future for generations to come.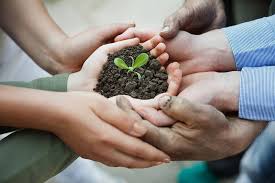 Many people are rightly concerned about the serious problems that exist in our current agri-industrial food system model, and the damage it is doing to our health, and the health of our planet. We believe that an important part of the solution is to restore local, regenerative and sustainable food production. Whether it's done on 20 acres, in your back yard, or 20 square feet of window boxes on your balcony, we can all make a diff erence in where we source our food, and how it is grown. Eastside Urban has all the tools, plants, products, and resources under one roof to help you get growing. We now off er the most comprehensive resource in Thurston county for organic agricultural supplies and educational resources, period.
Eastside Urban Farm and Garden Center has on-staff experts with many years of experience that can address just about any question our customers ask, and we are always happy to help!
Eastside Urban Farm and Garden Center was founded in 2013 by Brighida deVargas, and is a family-owned and operated local independent business. Brighida has an extensive background in agriculture, horticulture, Permaculture, and landscape design and is joined by an excellent team of staff- members also with extensive and wide ranging agricultural expertise, a great love of the PacificNW, and a strong commitment to serving the Olympia community.