In The Nursery:
Trees & Shrubs Available!
Most of our trees and shrubs are now available for our 2021 varieties that were potted up in January! Check out our list of fruit trees, ornamental trees, berries, lilacs, hydrangeas, and much more on our Nursery page!
Yes, Strawberries are also available now and selling quick!!
The First Spring Flowers
The first of our daffodils, crocus, snow-drops, Pericallis, Primroses, and more are now arriving! Check out our beauties in our greenhouse and nursery area out back!
In the Store: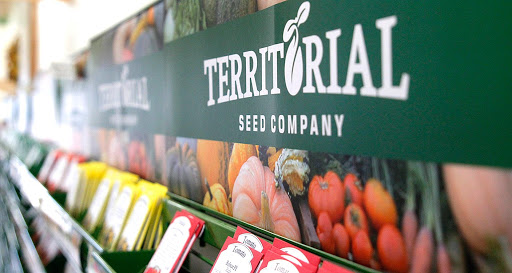 Organic Seeds
The first shipments of our seeds are now in store, with more arriving every week. Along with our long-time Pacific Northwest organic seed suppliers (Territorial Seeds, Adaptive Seeds, West Coast Seeds, Deep Harvest Seeds, & Resilient Seeds), we now welcome High Mowing Organic Seeds to our list of seed suppliers! These folks do most of their seed growing in Washington state near Mt. Vernon, so they should be a great fit for our regionally adapted philosophy that underpins our seed selection. We offer the largest selection of organic seed in Thurston County. Possibly in the state!
Chick Schedule
Subject to change according to demand and hatchery limitations
No new chicks sold on the day that they come in until 11 am to ensure they are healthy. All livestock sales are final.
We'd like to remind folks that we get poultry every week all year round, so there should be no rush to get livestock without proper preparation and consideration.
Sign-up to purchase chicks up to 24hrs in advance of chick arrival day here. For Friday shipments appointment booking will open at 10am on Thursday – for Bantam and Turkey the appointment booking will open on Wednesday at 10am
May
Friday May 14th – CANCELED!

Easter Eggers
Heritage Rhode Island Reds
Barred Rocks
Lavender Orpingtons
Black Australorps
Blue Australorps
Crele Penedesenca
Magpie Ducklings**
Rouen Ducklings**
Friday May 21st

Easter Eggers
Production Reds
Dominiques
Russian Orloff
Salmon Faverolle
Production Blues
Khaki Campbell Ducklings**
Friday May 28th

Olive Eggers
Black Copper Marans
Golden Sex Links
Speckled Sussex
Blue Laced Red Wyandottes
Production Blues
June
Friday June 4th

Barred Rocks
Black Sex Links
Golden Laced Wyandottes
Blue Laced Wyandottes
Pekin Ducklings**
Friday June 11th

Easter Eggers
Blue Australorps
Speckled Sussex
Silver Laced Wyandottes
Swedish Ducklings**
Friday June 18th

Easter Eggers
Olive Eggers
Silver Leghorns
Lavender Orpingtons
Barnevelders
Welsummer
Salmon Faverolles
Cream Legbars
Cayuga Ducklings**
We will be taking a short break till July 23rd!
July
Friday July 23rd

Easter Eggers
Olive Eggers
Rhode Island Reds
Barred Rocks
Buff Orpingtons
Lavender Orpingtons
Speckled Sussex
Black Maran Sex Links
Cream Legbars
Production Blues
Cayuga Ducklings**
Assorted Runner Ducklings**
Friday July 30th

Easter Eggers
Olive Eggers
Lavender Orpingtons
Blue Australorps
Golden Sex Links
Speckled Sussex
Golden Laced Wyandottes
Silver Laced Wyandottes
Blue Laced Red Wyandottes
Buff Brahmas
Black Copper Marans
Salmon Faverolles
Khaki Campbell Ducklings**
Swedish Ducklings**
August
Friday August 6th

Easter Eggers
Olive Eggers
Blue Plymouth Rocks
Black Australorps
Black Sex Links
Turkens
Dark Brahmas
Light Brahmas
Black Copper Marans
Cayuga Ducklings**
Friday August 13th

Easter Eggers
Barred Rocks
Buff Brahmas
Barnevelder
Blue Laced Barnevelder
Cuckoo Marans
Welsummers
Penedesencas
Salmon Faverolles
Cream Legbars
Production Blues
Assorted Runner Ducklings**
Friday August 20th

Buff Orpingtons
Lavender Orpingtons
Black Australorps
Black Sex Links
Red Sex Links
Dominique
Speckled Sussex
Silver Laced Wyandottes
Blue Laced Red Wyandottes
Standard Assorted Cochins
Friday August 27th

Easter Eggers
Barred Rocks
Olive Eggers
California Greys
Lavender Orpingtons
Golden Laced Wyandottes
Black Copper Marans
Blue Copper Marans
Russian Orloffs
Cream Legbars
Production Blues
**Straight Run