Quality gardening tools for beginners and seasoned gardeners
Excellent quality and hard to find tools, from pruners to spades to Japanese tools and everything in-between. Even real tools for kids! Seed germinating equipment, row cover, fencing, trellising, greenhouse plastic, pots, trays, organic seeds & covercrops, and organic solutions to common pest and disease problems! All that plus a huge selection of books: Everything from basic veggie growing, to permaculture, farm planning, homesteading, and how to rebuild the food shed locally and nationally.
The only Bulk Soil Amendment Department in the county
Over 60 organic soil amendments are available by the pound in our self-serve wonderbar for gardeners! From Alfalfa meal to Lime to Zinc, find exactly what you need to maximize the health of your soil. Most products also available in pre-packaged sizes 5lb to 5olb for your convenience. We also have an extensive selection of organic liquid fertilizers, bagged soils, composts, and manures. Everything you need to build your soil and maximize the nutrition and health of your plants!
Bee-friendly, Sustainable, & Organically maintained Plant Nursery
We offer an extensive selection of fruit and nut trees, berries, shrubs and vines, that are all specifically selected for Western Washington. We also offer the widest selection of seasonally appropriate and organic veggie starts, making year-round food production easy. Eastside Urban is known for our unusual and extensive bee-friendly flower selection as well. Our nursery is managed using only organic practices and products. We never use chemical pesticides or fertilizers, period.
The largest selection of Organic Pacific NW adapted seeds in our region.
Over 500 varieties of vegetable, grain, flowers, and herb seeds. Microgreen and sprouting seeds too!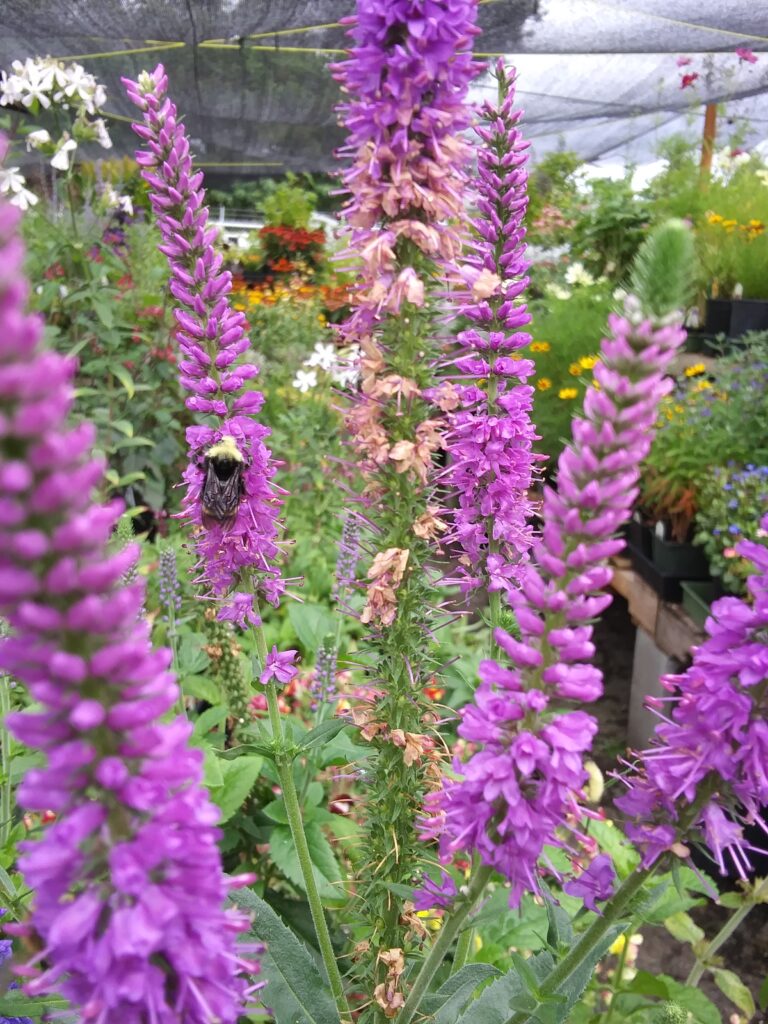 Soil Amendments
Prices and availability are subject to change. Please call or email us to inquire.
We focus on organic agriculture, so most of our amendments are certified organic.
Organic Soil Amendments
Alfalfa Meal OG – 0.5lb, 5lb, 40lb
Aluminum sulfate – 50lb
Azomite – 1lb, 5lb, 44lb, 50lb
Azomite Granulated – 5lb, 44lb
Basalt Cascade Minerals – 44lb
Basalt Rock Dust – 50lb
Bat Guano 9 3 1 – 4oz, 2lb, 10lb
Bentonite – 50lbs
Bio Char – 1cf
Blood Meal – 0.5lb, 5lb, 20lb, 40lb
Bokashi 0.5c, 1c, 3lb, 30lb
Bone Meal – 5lb, 50lb
Camelina Meal 50lb
Canola Meal 50lb
Corn Gluten Meal 50lb
Cottonseed Meal – 5lb, 50lb
Crab Meal 5lb
Crustacean Meal 40 lb
Diatomaceous Earth 50lb
Feather Meal – 5lb, 40lb,
Feather Meal – 50lb Granular
Dr Iron – 7lb
Ferrous Sulfate Iron – 50lb
Fish Bone Meal – 1lb, 5lb, 50lb
Fish Powder 12 1 1 1lb DTE
Fish Meal – 5lb DTE, 50lb Conc
Fulvic Acid products – 1pt Ful-power
Fulvic Acid products – 5lb Ful Humix powder
Glacial Rock Dust – 50lb
Greensand – 5lb DTE, 44lb Conc
Gypsum 25lb Granular Pearls, 50lb Granular, 50lb Powdered
Humic Acid – 1lb DTE, 5lb DTE
Humic Acid – Ful-Humix 5lb concentrate
Live Earth Humates 50lb soil conditioner
Insect Frass 44lb 3-2-4 Plan B
Karanja Cake meal – 44lb
Kelp Meal – 0.5lb DTE, 5lb DTE, 20lb DTE, 50lb Conc
Langbeinite KMag 0 0 22 DTE – 5lb, 50lb
Lime all forms – Dolomite 50lb
Lime all forms – Dolomite Pwd – 50lb
Lime all forms – Garden Pearls – 25lb
Lime all forms – Garden Pearls – 50lb
Lime all forms – Microna Ag powdered – 50lb
Lime all forms – Microna Soluble – 50lb
Linseed Meal Flax – 50lb
Magnesium Sulfate (Epsom Salt) – 50lb
Manganese Sulfate – 50lb
Myco Apply all purpose – 1lb
Neem Seed Meal – 5lb DTE, 40lb DTE, 44lb Concentrates cake
Oyster Shell Flour – 50lb
Plant Success Mycorrhizae – 1oz granular, 4oz granular, 4oz soluble, 1lb granular
Rock Phosphate CalPhos – 5lb DTE, 50lb Conc, 50lb Gran Conc
Seabird Guano 0 11 0 DTE – 5lb, 20lb
Shrimp Meal DTE – 2lb
Sodium Bicarbonate Baking Soda 50lb
Sodium Borate Boron Borax – 50lb, 55lb borax decahydrate
Soil Booster Cascade Minerals 44lb
Sulfate of Potash 50lb
Sulfate Potash Magnesia KMag Trio 50lbs
Sulfur Granules 50lb
Zinc Sulfate OG Gran 50lb
Zinc Sulfate OG Powd 50lb
Bulk Soil Amendments by the Pound
Alfalfa Meal
Alfalfa Pel OG
Aluminum Sulfate
Azomite
Basalt Rock Dust
Bio Char
Blood Meal
Bone Meal
Boron
Canola Meal
Corn Gluten Meal
Cottonseed Meal
Crustacean Meal
Feather Meal
Ferrous Sulfate Iron
Fish Bone Meal
Fish meal
Glacial Rock Dust
Greensand
Gypsum
Karanja Cake
Kelp Meal
Langbeinite
Lime Dolomite
Lime Garden Pearls
Lime Microna Calcium Carbonate Powder
Lime Microna Soluble
Linseed Meal Flax
Live Earth Humates
Magnesium Sulfate (Epsom Salt)
Manganese Sulfate
Neem Seed Meal
Oyster Shell Flour
Perlite
Potassium Silicate AgSil
Pumice
Rock Phosphate CalPhos
Rock Phosphate CalPhos Gran
Sodium Bicarbonate
Soybean Meal OG
Sulfate of Potash
Sulfate Potash Magnesia
Sulfur Granules
Vermiculite
Zinc Sulfate
Fertilizer Mixes
Acid Mix DTE – 1lb, 5lb, 25lb, 50lb
All Purpose Fert. 5 5 3 Conc -25lb, 50lb
All Purpose Fertilizer DTE 4 6 2- 1lb, 5lb, 25lb, 50lb
Bio Fish 7 7 2 DTE – 5lb, 25lb
Bio Live 5 4 2 DTE – 5lb, 25lb
Bio Turf 8 3 5 DTE – 6lb, 25lb, 50lb
Citrus Mix DTE – 1lb, 5lb
Fruit Tree Fertilizer DTE 6 2 4 – 5lb, 25lb, 50lb bag
Nutri Rich 4-3-2 Pel 20lb, 50lb
Nutri Rich 4 3 2 GRAN 40lb
Nutri Rich 8 2 4 GRAN 40lb
Rose Flower Mix 4 8 4 DTE – 1lb, 5lb, 25lb, 50lb
Rose Society Fertilizer 5 4 4 – 20lb
Starter Mix 3 3 3 – 1lb, 5lb
Tree Shrub Mix – 5lb, 25lb
Vegan Mix 3 2 2 – 5lb, 25lb, 50lb
Vegetable Garden 4 4 4 DTE – 1lb, 5lb, 25lb, 50lb
Compost and Soil
Bark Mulch Filthy Rich 2cu ft.
Cactus Mix 4 Corners 1 cf
Coco Blocks
Compost Fish Oly Mountain 1cf
Compost Teufel 3cf
Just coir 2 cuft Black Gold
Manure Chicken 1cf Stutzman
Manure Cow 1cf Scarecrow's Pride
Peat Moss 3.8cf bale
Perlite 1.5cf
Perlite 4 cu ft
Pumice 1cf
Recology Rocket Compost 1cu ft bag
Rice Hulls 50lb
Seedling Mix 4 Corners 1.5cf
Seedling Mix Black Gold 1.5cf
Soil Black Gold African Violet 8 qt
Soil Black Gold Cactus Mix
Soil Black Gold Natural & OG – 8qt, 16qt, 2 cu ft
Soil Black Gold Orchid Mix 8qt
Soil coco based 1.5cf
Soil MJR 1cf
Soil Super 1.5cf
Vermiculite 8qt, 12qt, 4 cu ft
Worm Castings 1cf 4 Corners