Get the best feed for your livestock
What you feed your livestock matters. Eastside Urban Farm & Garden offers several lines of great livestock feeds, from great companies: Scratch & Peck, Payback, & Modesto Milling. From 100% organic, GMO-free, Pacific NW milled grains, to high quality conventional feeds and bulk grains, we offer a variety of products so you can get exactly what you need for every animal on the farm. Want to grow your own grain or hay? We can provide quality seed at a reasonable price.
We also carry many veterinary supplies, including nutritional supplements, minerals, vaccines, pest control products, and lots more!
High quality feed at the best prices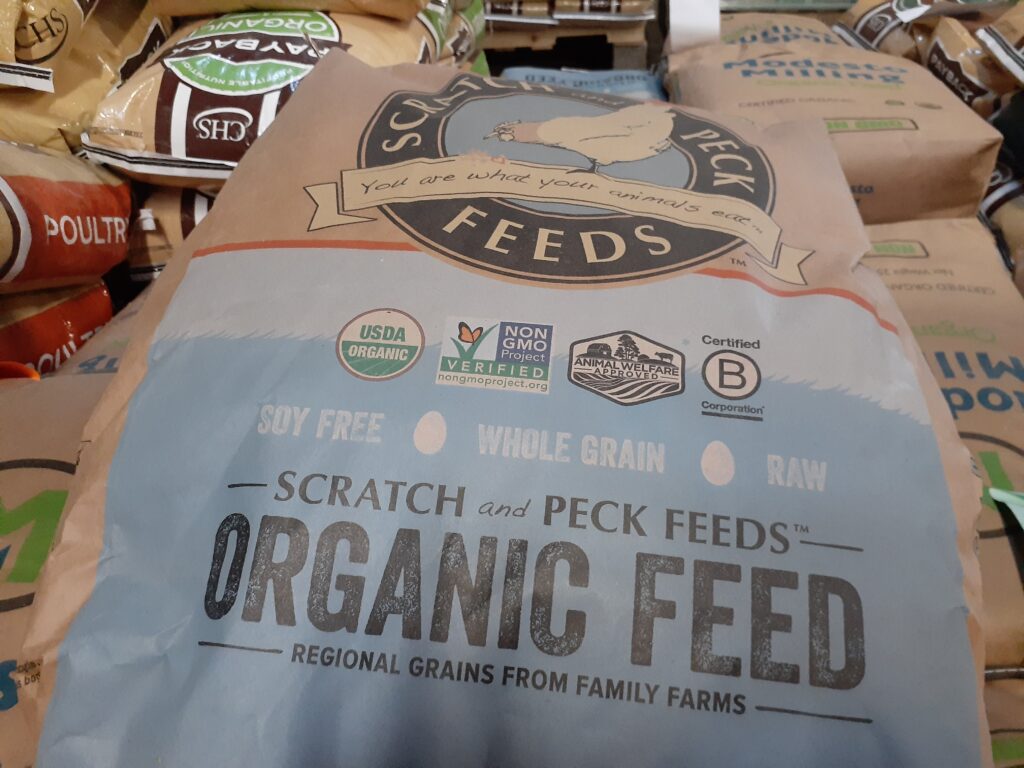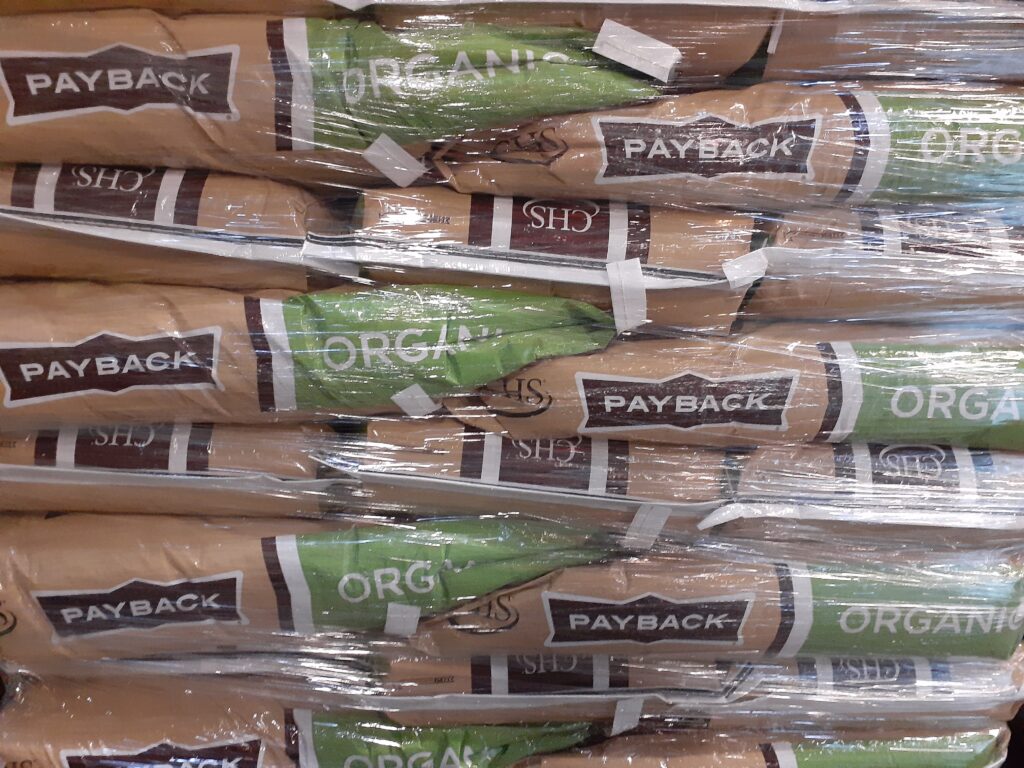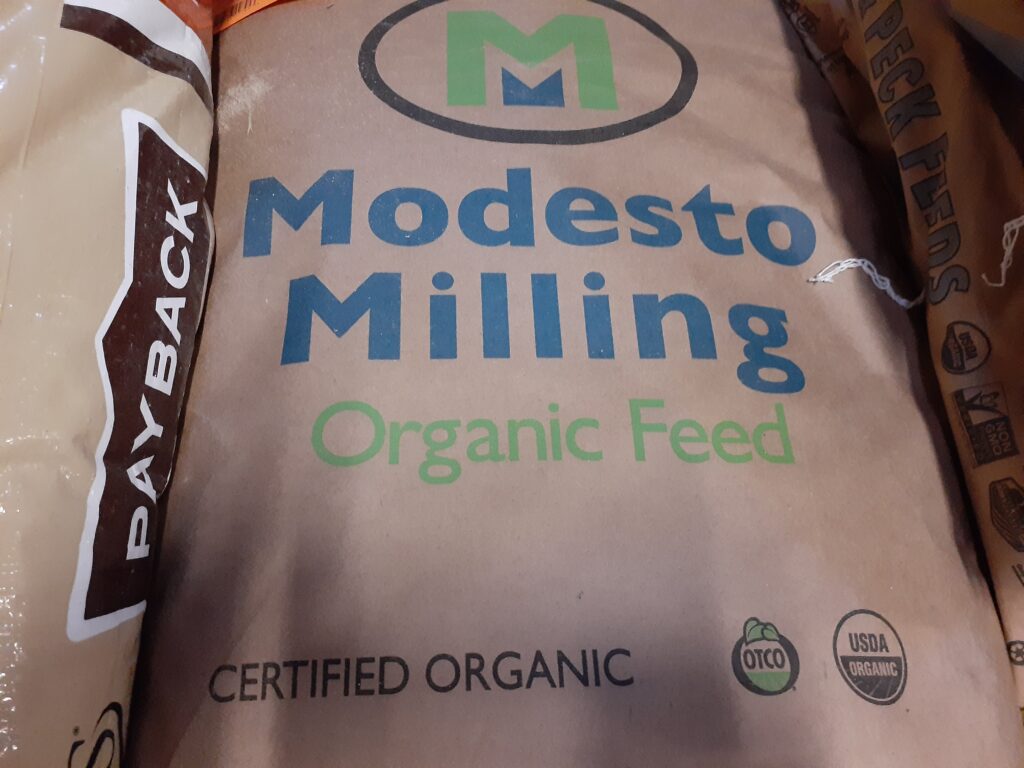 We encourage you to come in and compare our feed to what you're currently using. We offer great prices on high quality, Pacific NW feeds formulated for our soils and foraging conditions, and we can help you choose the right feed for your livestock. We are always ready to help with any questions, and have an experienced staff with many years of livestock-rearing behind them.
Feed brands and choices include
Payback Feeds
Scratch 'n' Peck Organic Feeds
Equis horse feed
Modesto Milling Organic Feeds
Mealworms, grubs
Local grass hay
Timothy hay
Country Vet Naturals Grain-Free Dog & Cat food
Alfalfa hay
Orchard grass hay
Bulk poultry grains scratch bar!
Straw, Shavings, Bedding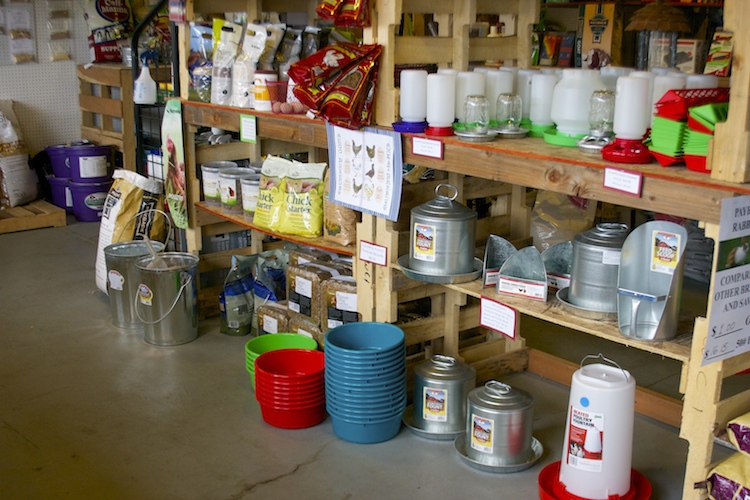 We also carry bedding shavings, feeders, waterers, and more with new items arriving.
If you can't find what you're looking for, we'll special order it for you!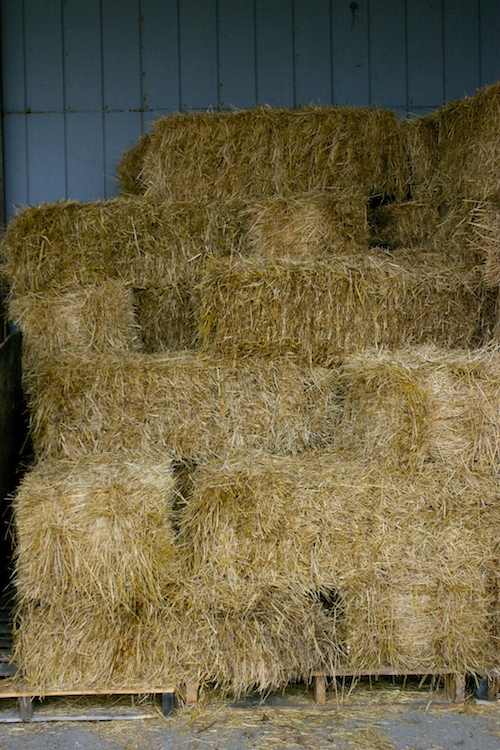 Current Forage and Such:
Premium Orchard grass hay, 2 string – $26
Local grass hay, 2 string – $14
Alfalfa hay, 2 string, 100lb+ – $49
Timothy hay, 2 string, 100lb+ – $49
Straw, unsprayed, 2 string;  $12/bale
GEM wood shavings: $14.50/bale
Bagged Hays:

Timothy
Alfalfa
Orchard
Local      
Straw
Feed (Prices are currently volatile & subject to change)
Bulk pricing usually by the pound
OG= Organic
Poultry Starter, Grower (Prices are currently volatile & subject to change)
Payback Hatch to Hen OG 50lb $55.50
Payback Hatch to Hen OG 25lbs $30.00
Payback Hatch to Hen 25lb $15.25
Payback Hatch to Hen 50lb $27.00
Modesto Milling OG Chick Starter 25lb $27.50
Modesto Milling OG Chick Starter OG 50lb $50.50
Scratch & Peck OG Chick Starter OG 25lb $31.50
Scratch & Peck OG Chick Starter OG 40lb $46.00
Scratch & Peck OG Grower OG 25lb $28.00
Scratch & Peck OG Grower OG 40lb $41.50
Waterfowl, Turkey, Gamebird (Prices are currently volatile & subject to change)
Modesto Milling OG Duck Layer 50lb $44.00
Modesto Milling OG Gamebird Crumble 50lb $46.00
Payback Gamebird Flight Ration 50lb $23.50
Payback Pigeon 11.5 50lb $34.00
Payback Pigeon 17 50lb $37.25
Payback Turkey Pheasant Starter 50lb $28.50
Payback Waterfowl 50lb $27.00
Payback Poultry Block $22.50
Modesto Milling OG Turkey Starter/Grower 50lb $51.50
Scratch & Peck OG Turkey Grower Soy Free 40lb $46.75
Poultry, Layer (Prices are currently volatile & subject to change)
Scratch & Peck OG Whole Grain Layer 16% 40lb $40.00
Scratch & Peck OG Layer 16% 25lb $27.00
Scratch & Peck OG Grub Protein 16% Pellets 35lb $48.50
Payback Layer Crumbles 50lb $24.50
Payback Layer Pellets 25lb $15.00
Payback Layer Pellets 50lb $25.50
Modesto Milling OG Layer Crumble OG 25lbs $24.50
Modesto Milling OG Layer Crumble OG 50lb $44.50
Modesto Milling OG Layer Pellet OG 25lbs $23.50
Modesto Milling OG Layer Pellet OG 50lbs $45.00
Modesto Milling OG Layer Whole Grain 25lb $29.50
Modesto Milling OG Layer Whole Grain 50lb $55.50
Payback Layer OG pellet 25lb $24.50
Payback Layer OG pellet 50lb $46.50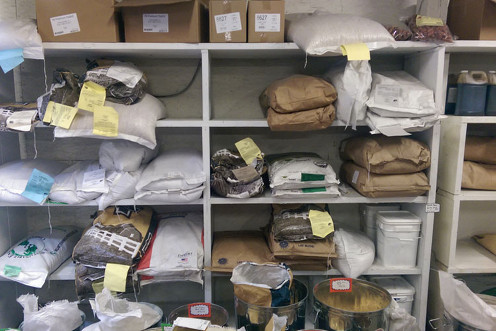 Poultry All Purpose & Fryer (Prices are currently volatile & subject to change)
Payback All Purpose Poultry Crumble 50lb $25.50
Payback All Purpose Poultry Pellets 50lb $24.50
Payback Fryer Ration Crumble 50lb $26.50
Payback Fryer Ration Pellet 50lb $24.00
Payback Fryer Ration Crumble OG 50lb $46.50
Poultry, Scratch (Prices are currently volatile & subject to change)
Payback 5 grain Scratch 25lb $13.50
Payback 5 grain Scratch 50lb $23.00
Payback 2 Grain Scratch OG 50lb $33.00
Payback Chick Scratch 25lb $14.00
Payback Chick Scratch 50lbs $21.00
Modesto Milling OG Scratch 4 Grain 25lb OG $24.00
Modesto Milling OG Scratch 4 Grain 50lb OG $42.50
Scratch & Peck OG 3 Grain Scratch 25lb $23.00
Scratch & Peck OG 3 Grain Scratch 40lb $34.00
Rabbit (Prices are currently volatile & subject to change)
Payback Rabbit 16 25lb $14.00
Payback Rabbit 16 50lb $24.00
Payback Rabbit 18 50lb $24.00
Payback Rabbit 17 OG 50lb $34.00
Modesto Milling OG Rabbit OG 25lb $25.50
Modesto Milling OG Rabbit OG 50lbs $44.50
Rabbit Royal 8lb $16.75
Goat (Prices are currently volatile & subject to change)
Payback Boer Goat Developer 50lb $22.00
Payback Goat Tender With Kelp 50lb $19.50
Modesto Milling OG Goat Dairy Pellet 50lb $41.50
Scratch & Peck OG Goat 40lb $39.50
Sheep (Prices are currently volatile & subject to change)
Modesto Milling OG Dairy Ewe Lamb 50lb $42.50
Payback All Purpose Sheep 50lb $20.00
Payback Lamb Starter med 50lb $26.50
Payback Sheep Champion Lamb Pellet 50lb $22.00
Hog/Pig (Prices are currently volatile & subject to change)
Payback Hog Breeder 50lb $21.75
Payback Hog Dewormer 50lb $24.00
Payback Hog Grolean Finisher 140 260 50lb $22.00
Payback Hog Grolean Grower 50 140 50lb $21.50
Payback Oriental Pig pellet 50lb $26.50
Modesto Milling OG Hog Finisher OG 50lb $42.50
Modesto Milling OG Hog Grower OG 50lb $41.50
Payback Hog 16 OG Pellet 50lb $40.50
Scratch & Peck OG Mini Pig Adult 18lb $19.00
Scratch & Peck OG Mini Pig Adult 40lb $41.00
Scratch & Peck OG Mini Pig Maintenance 18lb $17.50
Scratch & Peck OG Mini Pig Maintenance 40lb $38.00
Wild Bird (Prices are currently volatile & subject to change)
Payback Black Oil Sunflower 25lb $26.00
Payback Black Oil Sunflower 50lb $43.50
Payback Wild Bird Seed 25lb $16.00
Payback Wild Bird Seed 50lb $29.00
Specialty (Prices are currently volatile & subject to change)
Payback Deer Pellets 50lb $22.50
Payback Emu 50lb $25.50
Payback Guinea Pig 50lb $28.00
Payback Alpaca Supplement 50lb $28.50
Payback Llama Lunch 50lb $24.50
All Stock (Prices are currently volatile & subject to change)
Modesto Milling OG Livestock 50lb $37.50
Modesto Milling OG Livestock Dairy soy free 50lb $38.00
Payback dry COB 50lb $19.50
Payback Kountry Buffet 14 Text 50lb $20.00
Payback Kountry Buffet OG 14 50lb $38.00
Payback Organic Calf 18 Text 50lb $40.00
Payback Sweet 16 Dairy Text 50lb $22.50
Payback wet COB 50lb $23.50
Alfalfa Pellet 50lb Payback $23.00
Alfalfa Pellet OG 50lb Payback $28.50
Orchard Grass Pellet 40lb $27.00
Timothy Pellets 40lb $27.00
Horse/Equine (Prices are currently volatile & subject to change)
Payback Equis Complete 50lb $28.00
Payback Equis Complete Cubes 50lb $28.50
Payback Equis Daily 35 50lb $46.00
Payback Equis Element 50lb $28.00
Payback Equis Generation 50lb $28.00
Payback Equis Golden Senior 50lb $29.00
Payback Equis Performance 50lb $33.00
Payback Equis Rice Bran 50lb $27.00
Payback Equis Sweet Grains 50lb $23.00
Payback Equis Teff 50lb $37.00
Shredded Beet Pulp W/O Molasses 50lb $33.00
Payback Beet Pulp Pellets 50lb $20.00
Barley Rolled 50lb $26.00
General (Prices are currently volatile & subject to change)
Brewers Yeast 50lb $103.50
Corn Whole 50lb Payback $20.50
Flax Seed 50lb $78.50
Millet 50lb $44.00
Milo 50lb Payback $25.50
Nyjer Thistle 50lb $95.00
Oats Whole Recleaned 50lb Payback $20.75
Payback Cracked Corn 50lb $23.50
Rolled Oats Grainland 50lb $28.00
Safflower Seed 50lb Payback $40.00
Scratch & Peck OG Cracked Peas 40lb $45.00
Scratch & Peck OG Whole Peas 40lb $37.50
Wheat Bran 50lb $28.00
Wheat Whole Red 50lb $24.50
Wheat Whole White 50lb $20.00
Barley Whole Modesto Milling OG 50lb $40.00
Corn Whole OG 50lb Modesto Milling OG $38.00
Milo 50lb Modesto Milling OG $38.00
Modesto Milling OG Flax Seed whole 50lb $57.50
Modesto Milling OG Oats 50lb $46.00
Payback Cracked Corn OG 50lb $33.00
Peas Whole Modesto Milling OG 50lb $43.00
Soybean Meal OG 50lb $90.00
Scratch & Peck OG Barley OG 10lb $13.50
Scratch & Peck OG Barley OG 40lb $32.00
Scratch & Peck OG Corn Whole OG 40lb $35.00
Scratch & Peck OG Oats Whole OG 40lb $31.00
Scratch & Peck OG Sprouting Barley 10lb $13.00
Scratch & Peck OG Wheat Whole Red OG 40lb $33.00
Scratch & Peck OG Whole Peas OG 10lbs $16.50
Dog & Cat (Prices are currently volatile & subject to change)
CV Choice Maintenance Dog 50lb $44.50
CV Naturals Active 50lbs $54.00
CV Naturals Active 35lb $50.00
CV Naturals Healthy 35lb $49.50
CV Naturals Puppy 35lb $50.50
CV Naturals Senior 35lb $51.00
CV Naturals Grain Free Dog 30lb $51.50
CV Naturals Grain Free Cat Food 18lb $37.00
CV Choice Cat 20lb $22.00
BULK GRAINS/FEED PRICES COMING SOON